Read more about sustainable initiatives at the Embassy of Denmark in Washington D.C.
The Ministry of Foreign Affairs is a strong advocate for a more sustainable world and aims to become one of the world's five most sustainable foreign services within the next five years. In order to walk the talk and accelerate the Danish government's climate ambitions worldwide, the Ministry of Foreign Affairs has appointed 20 embassies as Green Frontline Missions to promote green solutions globally.

As one of the new Green Front Line Missions, the Embassy of Denmark in Washington D.C. aims to decrease its carbon emissions to promote sustainability.

A Sustainable Embassy
Just after World War II, former Ambassador of Denmark to the United States, Henrik Kauffman, came forward with an innovative idea of constructing a completely new, modern embassy in Washington D.C. that would embody Danish values, ideas and ambitions.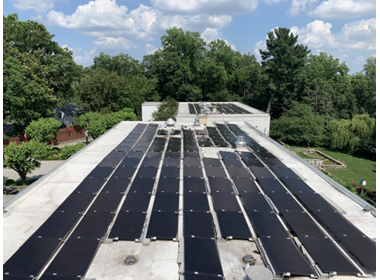 "Back in the 1960s, the idea of building a new modern embassy was groundbreaking. Today, we wish to ensure that the embassy
is as green as possible. Green solutions are embedded in Danish values, so we strive to reflect green values in everything we
do at the embassy," says Ambassador of Denmark to the United States, Lone Dencker Wisborg.
At the embassy, we have made several changes in order to become more sustainable. We have installed a rooftop solar panel system consisting of 211 solar panels, each of 330 watts.
We have also installed an electrical charger for electrical vehicles and we have invested in electrical embassy bikes, so we can bike to meetings and events around town. This not only creates a sustainable and healthy way of transportation, but it also shows the Danish bicycling culture. In our day-to-day work, we also try to make a difference by using reusable water bottles, which reduces the use of plastic at the embassy.