Chicago
Meet the Consul General
Consul General in Chicago, Jesper Køks Andersen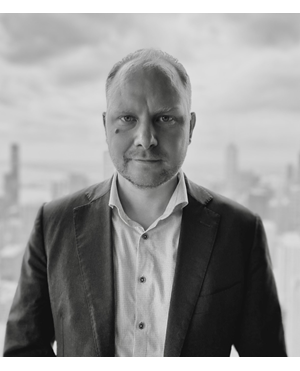 On September 1, 2022, Jesper Køks Andersen was appointed new Consul General in Chicago. Jesper joins the Consulate with a great understanding of the Danish community in the Midwest and commercial opportunities as well as a big love for Chicago. The consular responsibilities of the Consulate General in Chicago span across Colorado, Illinois, Indiana, Iowa, Kansas, Kentucky, Michigan, Minnesota, Missouri, Montana, Nebraska, North Dakota, Ohio, South Dakota, Wisconsin and Wyoming.
As Consul General, Jesper's main priorities are supporting the Danish community in the Midwest while also assisting Danish companies in getting a foothold in the U.S.
"I am very excited to embark on this journey here in Chicago where I have lived at three different occasions. The Midwest is the heartland of America and a very interesting region especially within sustainable industries like water management, which serves as a great opportunity for our technology providers. Denmark is one of the global frontrunners within sustainable water management, and with the U.S. increasing their focus on developing sustainable utilities, our primary goal is to build bridges between the Danish and U.S. water sectors. We want to inspire local governments and utilities from our journey, as well as take home the latest innovation and know-how from the US water sector as inspiration for solutions back home."
Jesper's career in the Ministry of Foreign Affairs actually began at the Consulate General in Chicago in 2016 where he took on the position of Commercial Advisor before moving back to Denmark in 2020. Here, he worked with Green Diplomacy at the Ministry of Foreign Affairs in Copenhagen before returning to Chicago this year, first as a Counsellor for Water and Environment and now as the Consul General.
Contact
For more information, please feel free to contact Consul General and Head of Water Jesper Køks Andersen
Loading...